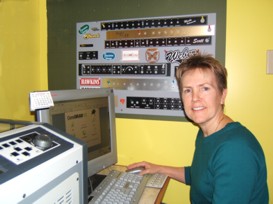 Precision Design is an Indiana-based laser cutting and etching service, owned and operated by Sandy Henry. While approaching 30 years experience with YAG and CO2 lasers, she is also trained in ISO procedures and Computer Aided Design. Precision Design specializes in customized products, including control panels, nameplates, and logo tags. Sandy has provided services for nationally based businesses in the medical sciences, electronics, and amplification industries, including Johnson & Johnson, DePuy, Delphi Electronics, Citi Financial, and Weber "Vintage Sound Technology".
Sandy has built the business primarily on referrals from satisfied clients who rave about her exceptional customer service and patience throughout the customizing process. While providing superior quality products with quick turn-around time, single item requests, as well as high volume orders, all receive the same outstanding service and attention to detail.
Looking forward to serving you. Thank you for your time.